My placenta was so much bigger than I thought it would be. I don't know why but I envisioned that it would be maybe the size of a fist, but it was more like a flattened basketball. Even though I wrote in my birth plan that we would be taking it home, my mom had to chase it down as the nurse wheeled it away on the birth cart after Danica was born.
She took it home and put it in the fridge. Three or four days later, I went over to her house and she and my doula made placenta prints with it. They used only the natural blood that was on it, and there was enough for about a dozen prints. They experimented with many different positions by laying it down on watercolor paper.
Here is a fresh one. As you can see, the blood is still bright red: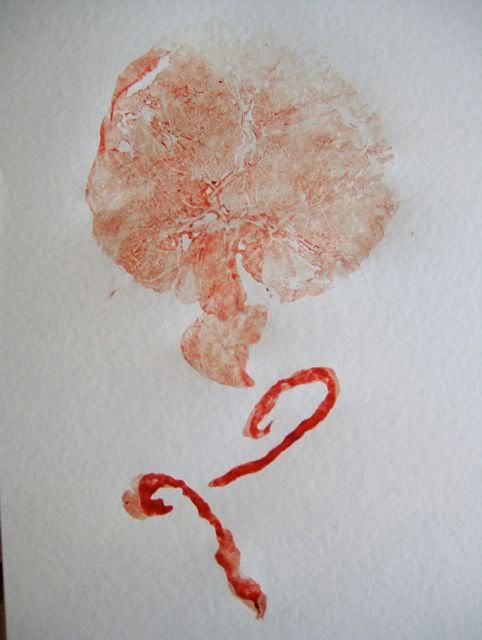 They got a bit darker after they dried. Here is the one that I had framed (sorry about the glare). It's hanging in my bedroom now: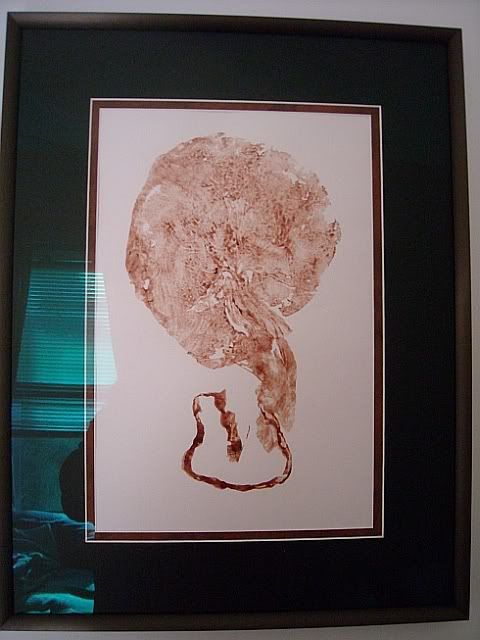 After they got done making prints, it was rinsed off and the cord was removed. Then my mom steamed the placenta, cut it into little chunks, and put it in the food dehydrator overnight. She also took the cord and wound it in a little coil and put that in the dehydrator too. It came out looking really cool. It should keep for a very long time as it is completely hard & dried out. I don't have a picture of it, but it kind of looks like one of those dog treats made from some weird bovine body part... only it's way cooler once you know what it is, and I'm psyched that I get to keep our umbilical cord forever :)
After the placenta pieces were dehydrated, my mom ground them in a coffee grinder. They turned into a very fine powder, and we then put the powder into capsules. I have been taking 4 each day (2 in the morning and 2 at night) since about 1 week post-partum.
I could tell you all sorts of things about how awesome I'm feeling despite having about 40 risk factors for PPD, or about how I lost all my pregnancy weight by 3 weeks after the birth, or about how light my lochia was and how it barely lasted 4 weeks, or about how I'm producing enough breastmilk to feed half the orphans in Africa... but the truth is, I don't know how much of this really is because I'm taking my placenta and how much of it would have happened anyway. The research still needs to be done to verify these and many other benefits that people claim you can get from ingesting your placenta. But I figure if I don't do it, and wind up with PPD (my biggest fear, and my main reason for taking it), I will always regret not doing everything I possibly could have that might have helped me stay sane. So if it is a coincidence or just placebo effect, I don't really care. As long as I'm feeling well, I'm not going to obsess over it :)